Circus Extravaganza Fun!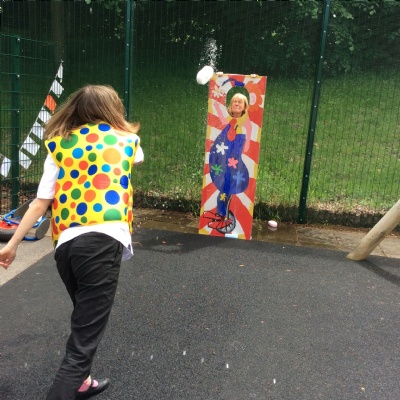 Endeavour celebrated its first community event by welcoming parents and carers to our circus afternoon.
This was the culmination of all the activities our children and young people had been working on during the summer term. It started as a small idea to teach the children about the circus as part of our 'Lights, Camera, Action' topic but quickly snowballed as staff saw how much learning was being achieved outside the classroom.
Classes made circus games which encouraged team work and maths skills while having fun. These ranged from knocking down sensory skittles and counting ducks hooked out of the pond to feeding beanbag 'meat' into the highly creative lion that the Post 16 students worked on. Every student helped make a brightly coloured t-shirt as part of their Design Technology project and they were so impressive that staff made their own.
Sporting circus outfits the classes tried a wide range of news skills during the workshops delivered by Richard from the fantastic 'Circus Sensible'. Students displayed their talents while plate spinning, stilt walking and had so much fun on the diablo and tightrope that staff couldn't resist having a try.
The afternoon saw us welcome parents and carers to two loud and energetic street dance performances before spending time participating in the wide range of activities on offer. Highlights included the drumming sessions led by our music therapist Susan Glaisher, soaking adults in the clown sponge game, sporting brightly coloured face paints and tattoos before enjoying hotdogs and clown biscuits in the circus café.
Parents comments included how they were delighted to see their son wanting to have his face painted – an activity they never thought he would accept and enjoy. Others welcomed the opportunity to attend a 'community fete' as this was usually too stressful for their child and being able to share activities the students enjoy as part of their Endeavour experience.
There was lots to try and experience on the day and you can see photos of all the fun in the photo gallery here.